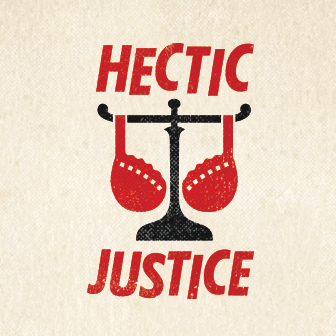 We go behind the scenes on an investigation with Detective Legless! Why is she such a tell-it-like-it-is detective who feels things inside her so hard?  Who is her bumbling but attractive new partner?  And Hester is prosecuting a case which may lead her into mortal danger!  But is her skirt too short?  Which new character will prove his worth by saving her life and possibly getting lucky?  And specifically what accent is that coming from Chief of Police Boobie Winston?  Or is she just having a stroke?  Find out in this episode of Hectic Justice!  
Featuring the voices of:
Sam Marzden as Narrator and mafia mobster, Mickey 'One-Eye' Spiggs.
Lauren Bok as Detective Zoe Legless and mafia mobster, Nippy 'Tits' McNorgstrem.
Bek Chapman as Hester Monroe and Chief Boobie Winston.
Tony "Bones" Burge as Sergeant Lucky Spriggan, mafia mobster Davey 'Jo' Spider, and Defense Attorney Baxter Slick!
Seán Cunningham as Conrad Craig from the County of Cork. 
GUEST STARRING:
Michael Dalton as Dolly Diamond playing Judge Anna Feazlebottom
and 
Tony Martin as over-acting extra and Pete Smith!
Theme music written, recorded and produced by Bek Chapman.  Performed by Bek Chapman, Sam Marzden, Lauren Bok and Tony "Bones" Burge.
Audio advice and clip tidying done by Andrew "Parkers" Bailey from
The Campfire with Parkers & Daly!
https://www.thecampfirewithparkersanddaly.com/podcast
Featured music includes (in order):
Kid Ory - Muskrat Ramble
Hot Sugar Band - Mabel
Hot Sugar Band - Blues Petite
With special thanks to Hot Sugar Band from Paris who gave permission to use their music! 
https://hotsugarband.bandcamp.com/