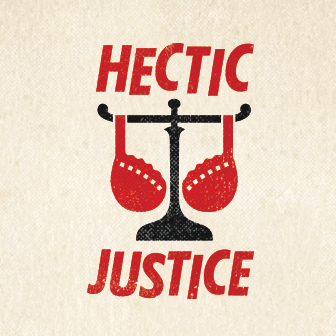 This episode sees Hester Monroe all tied up with a sexy rope in a dungeon.  A moist dungeon!  Awakened by Nippy Tits McNorgstrem, the buxom mafia broad with her super mild cigarettes, Hester realises she's indeed in deep do-do!  After some sexy torture, with plenty of inappropriate close-ups of nipples and thighs we then see a worried Baxter Slick drinking at the strip club with Big Tony and his oafs.  He's getting in deeper with the mob now, after tipping them off about the raid!  And now he's forced to take on Nippy "Tits" McNorgstrem as his new secretionary for his orifice.  But is it due to her savvy business administration skills?!  Or are they trying to get him HOOKED on their illicit PRODUCE?!  Find out in this episode of Hectic Justice!
GUEST STARRING:
Michael Dalton as Dolly Diamond playing Judge Anna Feazlebottom (who doesn't appear in this episode, OH! The travesty!)
Tony Martin with his usual jokes at the end.
Featuring the voices of:
Sam Marzden as the inappropriately aroused Narrator.
Lauren Bok as Nippy "Tits" McNorgstrum.
Bek Chapman as Hester Monroe (and as a poor mimic of Nippy "Tits" and Mickey One-Eye Spiggs's extra parts, due to coronavirus restrictions.)
AND 
Tony "Bones" Burge as basically EVERYONE else!  - Big "Tony" Mascara, Advertisement Voice Over guy, Defence Attorney Baxter Slick, and Davey "Joe" Spider, the dopey mafia intern!  What an acTOR!
--
Audio advice gratefully received and sometimes forgotten or ignored from Andrew "Parkers" Bailey from
The Campfire with Parkers & Daly!
https://www.thecampfirewithparkersanddaly.com/podcast
Featured music includes (in order):
Tommy Dorsey - "Stop, Look and Listen"
Bek Chapman - "Hectic Justice Theme Tune"
Hot Sugar Band - "Blue Drag" 
Hot Sugar Band - "Mabel" 
Hot Sugar Band - "Into This Heart of Mine"
Hot Sugar Band - "Daphne" underneath the Marlborough Tramps Advertisement.
Hot Sugar Band - "Blue Drag"
Hot Sugar Band - "East St Louis Toodle"
Hot Sugar Band - "Into This Heart of Mine" 
Hot Sugar Band - "Blue Drag" 
With special thanks again to Hot Sugar Band who gave permission to use their music! 
https://hotsugarband.bandcamp.com/
'Hectic Justice' theme music written, recorded and produced by Bek Chapman.  Performed by Bek Chapman, Sam Marzden, Lauren Bok and Tony "Bones" Burge.
All sound effects from Soundsnap.com.