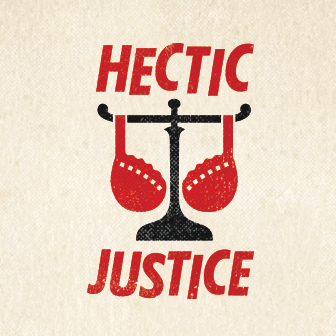 Turn on the wireless! It's time for Hectic Justice!  As Hester Monroe loses her case due to a dubious ruling by Judge Anna Feazlebottom, mafia boss Big "TONY" Mascara once again goes free!  A confrontation with Defense Attorney Baxter Slick leaves her breathless and unbuttoned, but a cup of tea with best friend, tell-it-like-it-is Detective Zoe Legless will calm her down! Especially when served in an inappropriate negligee.  But what will happen now?  Will the mafia be free to roam the streets and possibly do even more illegal things illegally?  And how will Chief Boobie Winston handle another case being tossed like an avocado salad?  Find out in this first episode of Hectic Justice!
Featuring the voices of:
Sam Marzden as Narrator and mafia mobster.
Lauren Bok as Detective Zoe Legless and mafia mobster.
Bek Chapman as Hester Monroe and Chief Boobie Winston.
and introducing Tony "Bones" Burge as the Radio Voice Over Guy, Big "Tony" Mascara, dopey mafia mobster and Defense Attorney Baxter Slick!
GUEST STARRING:
Michael Dalton as Dolly Diamond playing Judge Anna Feazlebottom
and 
Tony Martin as Pete Smith (purely Melbourne joke.)
--
Audio advice and clip tidying done by Andrew "Parkers" Bailey of
The Campfire with Parkers & Daly!
https://www.thecampfirewithparkersanddaly.com/podcast 
--
Featured music includes (in order):
The Andrew Sisters - Jumpin'Jive
Hot Sugar Band - Topsy
Hot Sugar Band - Blue Drag
Hot Sugar Band - Do You Know What It Means (to miss New Orleans?)
https://hotsugarband.bandcamp.com/
Special thanks to Hot Sugar Band from Paris who gave permission to use their music!
Theme music written, recorded and produced by Bek Chapman.  Performed by Bek Chapman, Sam Marzden, Lauren Bok and Tony "Bones" Burge.