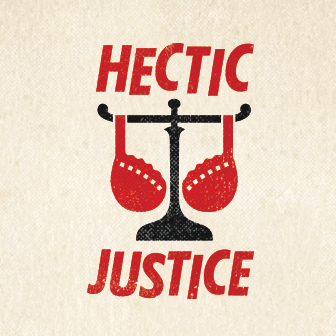 Puns.  Gavels.  Dad jokes.  Mini skirts.
Bumbletard Productions reluctantly presents:
An Ally-McBeal/Law-&-Order meets 1940s-radio-show meets daggy-Uncle-Russell-at-your-wedding-style show:
Hectic Justice!
Find out what happens when two actor-comedians, a musician and a math teacher from Melbourne get together to re-establish the nuance of ridiculous radio dramas of yesteryear, whilst established Australian celebrities make dubious and most likely subpoenaed cameos, guaranteed not to enhance their careers.
Ladies and Germs, we give you:  
Hectic Justice!
A new podcast comedy written, directed and produced by Bek Chapman.
Featuring the voices of:
Bek Chapman as Hester Monroe and Chief Boobie Winston.
Sam Marzden as Narrator.
Lauren Bok as Detective Zoe Legless. 
Tony "Bones" Burge - appears in Episode 1, keep your knickers on!
GUEST STARRING:
Michael Dalton as Dolly Diamond playing Judge Anna Feazlebottom
and 
Tony Martin as Pete Smith (purely Melbourne joke.)
Theme music written, recorded and produced by Bek Chapman. 
Performed by Bek Chapman, Sam Marzden, Lauren Bok and Tony "Bones" Burge.